I saw this cute blanket on
Baby Steals
and saw that one looked a lot like the groovy garden pattern by
Ju-Ju-Be
of course like always with that site...I didn't check out fast enough to get it! But on the
Go Baby website
they are having a special and you can use the code MOMDEALS and get an additional discount!! So I got it for the babysteals price!! This blanket is the perfect size for a handful of babies/toddlers and it works great for me and my two! This blanket is also lined with something water proof! when I first opened it and lay it out for the kids my daughter promptly stole dads soda and spilled it all over the blanket! I didn't see it for a minute and when I did I lifted the blanket and not a drop of soda was on my already child-ruined carpet! This Out Mat right out of the package feels rough like an old terry cloth towel but after one wash (w/country save detergent) its a lot softer and can now actually be used as a blanket in a pinch! I would recommend this play mat for indoor and out door use! Go Baby also has a indoor mat called the InMat on their site! I will probably review this one soon!! Another great thing about the Out Mat is that it rolls right up into a carry bag that has a zipper pouch big enough for keys, or whatever! and you can fit a few diapers and wipes in the main compartment w/the rolled up blanket!!!
WEBSITE SPECS:
Mat surface area is 50"x50"
Available in 3 designs: Spiral/Pink & Brown, Swoosh/Light Green & Dark Green and Single/Blue & Orange
Rolls up into its own bag for easy transportation
Internal zipper allows mat to detach from the bag for easy washing
Adjustable straps fit on any stroller or over the shoulder
External pocket for keys, sunscreen or snacks
Super lightweight design that you can take everywhere - under 3 lbs!
bag empty:
Bag w/blanket in it next to Groovy garden belight change pad:
To show size rolled up next to GG change pad(21x12.25)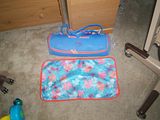 And I folded up the change pad to put in the little pocket!